Promark Active Grip Drumsticks Sticking Around
Author: Oxygen Music Date Posted:1 May 2017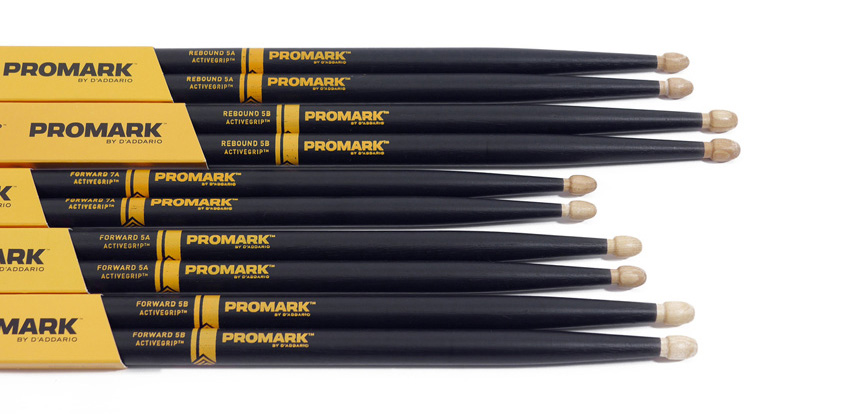 The Promark ActiveGrip sticks are the latest contender on the market for grip sticks. It's been an age-old dilemma for drummers: once you get behind the kit, at home or on stage, the adrenaline gets pumping, and your hands start to sweat, potentially compromising your grip while trying to play! With the ActiveGrip sticks, this is no longer a problem.
So what makes the ActiveGrip sticks stand out from other grip sticks on the market? These sticks are covered with a revolutionary heat-based coating that gets tackier as your hands get hotter! Not only do these bad boys increase your stick grip, the thin coating provides a natural feel just like your traditional stick. Some other grip sticks on the market can feel clunky in your hands, feeling like the grip has added extra weight and thickness to the stick, and compromising the ability to play as you naturally would. With the ActiveGrip sticks, that is no longer the case!
In addition to the coating technology, the ActiveGrip range is offered in a variety of Select Balance sizes, including Forward 7A, 5A, 5B, as well as Rebound 7A, 5A, 5B. The Select Balance range has been specially weighted in one of two different ways to change how the stick responds in your hands. The Forward range are a front-weighted stick that optimise power and speed in your playing, whilst the Rebound range offers a rear-weighted stick that boasts finesse and agility. To top it all off, all these sticks mentioned include a reinvented Acorn tip, providing a larger contact surface to increase responsiveness and articulation!
Promark have gone all out in offering an advanced range of sticks that cater for a multitude of players who want to keep their sticks in their hands for longer, and they certainly do not disappoint. They are definitely worth a try!
---
Leave a comment