Kawai CN27 and CN37 Digital Pianos
Author: Oxygen Music Date Posted:1 May 2017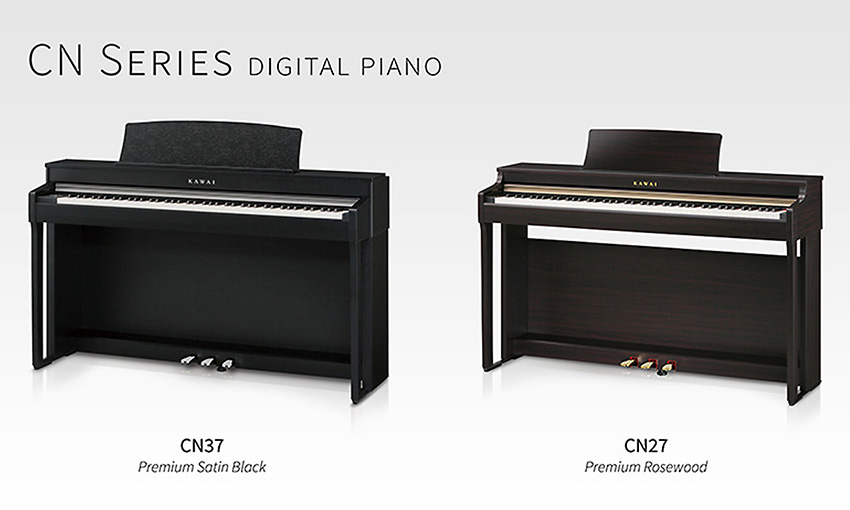 The new Kawai CN27 and CN37 digital pianos are well worth trying out if you are in the market for a digital piano that offers and authentic piano sound and feel. We've always been fans of the Kawai digital pianos and these new release certainly live up to our expectation offering an even better sound, feel and range of features than their predecessors.
One of the features that set Kawai digital pianos apart is their key feel – both the CN27 and CN37 models incorporate Kawai's Responsive Hammer Action III keyboard action which recreates the touch of an acoustic grand piano with triple-sensor key detection system to enhance responsiveness, let-off simulation, key counterweights to allow control and response in both pianissimo and more forceful playing. An extra nice touch is the inclusion of Ivory Touch key surfaces which give a matte, finely textured finish to absorb fingertip oil and perspiration preventing keys from feeling slippery.
The CN37 especially has had some improvements to cabinet design – the new model now having cleaner, more modern lines than previous models and the control buttons have moved from being in a strip above the keys to being tucked more discretely in the cheekblock (left hand side of keys) giving a nice minimalist aesthetic which appeals to many purchasers.
One of the highlights of the new features is the integration of Bluetooth MIDI into both the CN27 and CN37 which allows for wireless communication to supported smart devices such as iPads and iPhones. Kawai have a couple of their own apps (Virtual Technician and Sound Museum apps for iOS) that allow the user to easily adjust the vast number of settings and parameters on the instruments from the touch screen on their device rather than the digital piano which is a lot more user friendly than navigating with the buttons for more advanced settings. Whilst the Bluetooth won't allow you to play audio through Bluetooth speakers it is a useful addition for many people and I'm sure we will see many other manufactures follow Kawai's lead in coming years.
One of the major points of difference that also sets these Kawai models apart is the way they sample their piano sound – in the Kawai CN series each of the 88 keys are recorded, analysed and accurately reproduced from Kawai's premium range of SK-EX and EX concert grand pianos. Aside from all other features the quality and realism of the piano sound is the main reason people choose a digital piano and again Kawai have managed to deliver with the CN range.
---
Leave a comment